One of the most notorious invasive species known is the Cane toad in Australia,
If not mistaken cats on the Island of Tasmania
Cane toads were originally imported to Aus in the 1980s to control the cane beetles... which are decimating the budding sugarcane industry.
Much to their horror, the toads do not prey selectively upon the beetles, despite their name!
Due to their size, they consume pretty much anything and everything... especially the native Australian frogs which are outcompeted and displaced! The wreak havoc on the Australian Native system and cause a number of species of animals to be threatened.
If that isn't the end of their problem, the toads secrete a noxious substance that cover their bodies... killing anything that tries to eat them! This of course leads to a population explosion and pretty much all of Australia has been colonized...
--G'day Mate! They Call me Toadzilla--
This ecological disaster has not yet been adequately rectified... conservationists are resorting to the last strategy...fencing up un-invaded ponds to protect the native froggies... this time its the size that plays to the toads disadvantage.
and in Malaysia itself....
The red ear terrapins!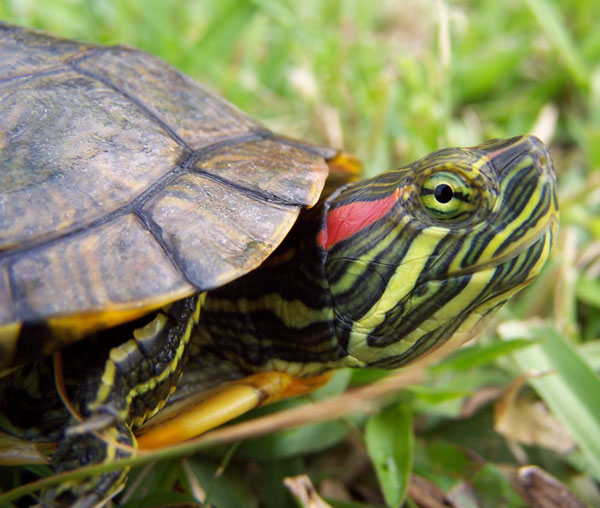 Those terrapins or sliders or tortoises.. whatever you call them.. can be found in almost all petshops in Malaysia.
Cute while they are tiny... many outgrow the space in the house and in the hearts of their owners and get abandoned Throughout Malaysia
All the Rivers, Streams, ponds, Lakes are infested with these alien species...
causing native species like the Malayan Box Turtle to be outcompeted and threatened.
PLease educate your friends, relatives and monyet-hood to not buy these little critters if they do not plan to keep them for life.
you are indirectly destroying Malaysian wildlife... Based on limited data.. we known our own turtle is threatened... but how much more impact is undetected?
Stop the invasion of Alien Species...
IN the same vein... Protest against Malaysian Government's repeated attempts to replant all the highways roadsides with ACACIA trees! (as if the Palm Oil plantations are not ENOugh!!